Rick Tejada-Flores is a documentary filmmaker with over 40 years of experience in film and television. His works have appeared on PBS, cable, and in the Smithsonian Institution. Among his producing and directing credits are Si Se Puede!, Low 'N Slow, the Art of Lowriding, Rivera In America, Elvia, the Fight for Land and Liberty, Jasper Johns Ideas in Paint, The Fight in the Fields, Cesar Chavez and the Farmworkers Struggle, The Good War and Those Who Refused to Fight It, Race is the Place, American Encounters, Caminante and Orozco Man of Fire.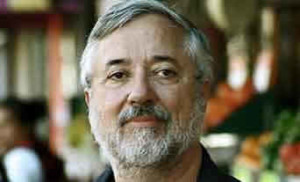 His editing credits include Trimpin, the Sound of Invention, directed by Peter Esmonde; Will the Real Terrorist Please Stand Up, directed by Saul Landau, and In the Image, directed by Judith Montell and Emmy Schrlatt.
Awards include the John O'Connor Award, American Historical Association, the Erik Barnouw Award, Organization of American Historians, best documentary, Ojai Film Festival, Special jury award, Moab Film Festival, Honorable mention Columbus International Film Festival, Honorable mention, Ann Arbor Film Festival, two CINE Golden Eagle, Gold Apple, Natl. Ed. Media Network, Best Documentary, San Antonio CineFestival, Golden Plaque, Chicago Intl. Film Festival, Gold Medal, Charleston International Film Festival, ALMA award, National Council of La Raza, Joady award, Gold Apple, Natl. Ed. Media Network, Golden Gate Award, SF International Film Festival, Silver Apple, Natl. Ed. Media Network and Best TV Documentary, National Latino Film & Video Festival.
Other honors include the James Phelan Award for Video Art, and a Residency in video at the Rockefeller Conference Center in Bellagio Italy.
For information on Rick Tejada-Flores' other films, log on to www.paradigmproductions.org, www.alturasfilm.com, and sisepuedefilm.com.