Every family has its secrets and skeletons. Tracing my family story can help viewers understand how the continent really works…    magic realism, but also 500 years of conflict and misunderstanding, exploitation and oppression. On a personal level my journey is an effort to square the romantic narrative that that I grew up with with the dark realities I was never told about.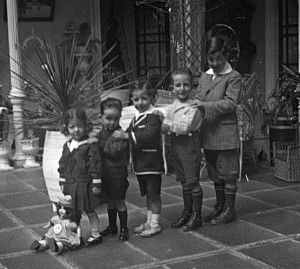 R to L: My father Hernan, with brothers
Gonzalo,Ximeno, Carlos, and sister Elvira
The first stop is El Chaco, a stone castle that my grandfather built in the 1930s while he was President of Bolivia during the Chaco War, the bloodiest war in Latin American history, fought for oil that never existed. The stories of old veterans and flickering images of the conflict make the undeniable case for a war as senseless as World War I.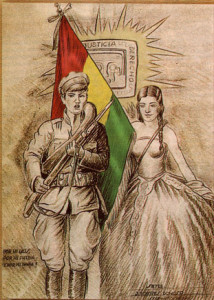 Cover of book on the Chaco War
Farther along the winding dirt road is Tiquimpaya, another former family estate from the colonial era. The coca produced here was grown by African slaves. When I meet their descendants, I learn that Bolivia isn't immune to racism, and that Afro Bolivians are at the very bottom of the social order.
After World War II, Latin America was flooded with European refugees, including many Nazi fugitives. One of the most notorious was Klaus Barbie, the Gestapo "butcher of Lyon." He arrived in Bolivia in 1951 with the help of the U.S. government. His first job was at Llojeta, one of my family's estates.
When I first visited Llojeta, the villagers suspected that I had come to take their land away. When I return, I meet with the town council and we agree to collaborate on a project to rebuild the community's water system.  But, as I learn after  years of trying to get the process started, nothing is simple here and there are no easy fixes.
I'm not sure what the end of the Llojeta story will be, but I've found the answer to many of the riddles that have haunted me.  The question that remains is, is it really my Bolivia?